Support Groups
Support On and Around Campus
Girl Talk
Girl talk is a confidential women's support group organized by the Women's Center. During these weekly meetings, Women's Center advocate Sydney Trezza guides discussions and projects for a small group of women.
Girl talk lasts for eight weeks during the fall and spring semesters.
To sign up email Sydney at Trezzas@wcsu.edu.
---
The Locker Room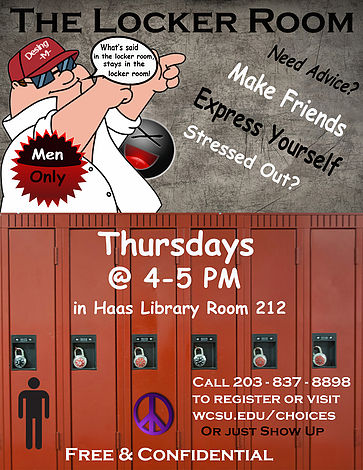 The Locker Room is a free and confidential group for men only. The group is guided by Stan Watkins, MSW and student members.
It is a great opportunity to make friends and express yourself. Additionally, the group provides you with the ability to de-stress/vent about what is going on in your life and to receive feedback and advice from your peers and a counselor.
Meetings take place on Thursdays from 4-5pm in the Haas Library. No sign up is required for meetings. For more information call 203-837-8898.
---
Women's Recovery Group
This meeting is designed for women in recovery from alcoholism, drug addiction, eating disorders​, and other addictive or self-destructive behaviors. In these weekly meetings, we will discuss various coping skills, including Dialectical Behavioral Therapy, the 12-Steps, and mediation. Additionally, in these meetings we will plan group activities like hiking, bowling, or volunteer work. Being active and supporting others through service is an essential part of recovery.
This group is not a substitute for counseling. However, it is a great supplement to regular therapy and counseling. Working with other women who have been in recovery for a while or share in the struggle can be incredibly helpful and inspiring.
---
Alcoholics Anonymous
"Alcoholics Anonymous is an international fellowship of men and women who have had a drinking problem. It is nonprofessional, self-supporting, multiracial, apolitical, and available almost everywhere. There are no age or education requirements. Membership is open to anyone who wants to do something about his or her drinking problem."
WCSU AA meetings take place at Sacred Heart Church, 17 Cottage Street in Danbury, CT.
Sunday: 7:30-8:30pm Do It Sober Young People's Meeting
Contact gucks@wcsu.edu for more information